We know that making a kitchen that isn't purpose-built for your kitchen space work can be difficult, especially if you want to make it look good. So, in order to fix this problem, we're writing this article! Here are seven ways to make a used kitchen work and look good in your house.
#1- Mismatching Islands
Here's an awesome idea that, when executed well, will look amazing. You will have to find an island that somewhat matches the normal kitchen cabinet set, like a blue island with white cupboards, a black island with darker cherry cabinets, or a black island with white cabinets. If you are planning on painting some cabinets, doing this can limit your paint usage to only the island instead of the entire set, or, if your used kitchen cabinet set didn't come with an island when purchased, you can find a different one, and if you don't feel like painting, you might not have to!
#2- Interesting Island Construction
There are a lot of interesting ways that you could add an island to your kitchen, instead of just a boring rectangular island. The pictures below show some ways you can change up the game, like installing desk drawers to the top and then adding shelving underneath for basket storage, plates, or something non-kitchen related, like a bookshelf. You could also make some room underneath the island's top to store stools, and then pull those stools out when you want to eat, creating something sort of like a breakfast bar.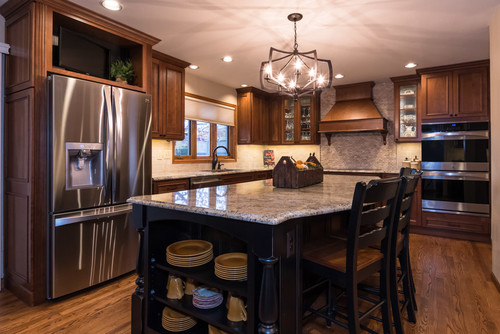 #3- Short on Bases
Does the kitchen cabinet set that you recently purchased not have a lot of bases? One solution to not having a sink base cabinet would be to change a bathroom vanity into an apron/ farmhouse sink base! You could do this by deleting the top drawers and blowing out the back of the cabinet and then placing your apron sink right in!
If you don't have a pantry cabinet, you could put doors facing outwards and create one on the side of a refrigerator instead of large panel or filler!
If you have a desk height cabinet that you need in the kitchen space, frame in a slide-out cutting board above it!
With some sets, you might find yourself just a couple feet short on the bases. This might not be the first solution, but one thing that can be done to quickly fix this problem is purchase a mini or wine fridge and place it in the empty space!
Tight kitchens can be tough, but keep in mind that you don't always need base cabinets under where you have counter space. As shown in the image below additional counter can be added without making your kitchen feel more closed in.
#4- Extra Uppers?
If you have more upper cabinets that you need, one solution is to install them upside down into a kitchen island! This makes for a nice looking storage solution for some empty space on an island! Alternatively, you could make an upside-down upper wall for some extra storage in a larger kitchen like shown in the final picture below!
#5- Corner Cabinet Problems
Maybe you bought your set without a base cabinet for a corner. If you purchase a set without corner pieces and you have a corner in your kitchen, you can just have a pantry framed it at the corner, or install an actual pantry or double oven cabinet there. If you have a peninsula, you can install a cabinet facing out into the living space, instead of using another corner cabinet there. This is a nice trick because most sets we get from million dollar homes won't have two corners. If your set doesn't have any corner uppers, you could bump the uppers you have up and put an appliance garage or two underneath!
#6- Mismatching Cabinets
Do you have a small set of kitchen cabinets that you really love? Maybe you have kitchen base cabinets that have dovetailed and soft-close drawers, rollout trays, and a super nice pantry that has a lot of storage, but you're not in love with your uppers. However, you really don't want to get rid of any of those awesome bases. With this trick, you won't even need to purchase any different base cabinets, because having mismatching uppers and bases can still look super great! This also goes hand in hand with the contrasting island idea, but try not to go overboard: 3 or 4 different cabinet colors might be a bit much.
#7- Extra Over-Fridge Uppers?
Here is a quick, awesome idea to use any extra over-fridge uppers you might have! Sometimes an over the fridge cabinet could be placed upside-down and used for a cooktop with forward-facing controls. You could also take an upside down upper and put it under an apron/farmhouse sink!